WALKING SOFIA
A city walk through Sofia, Bulgaria, 9.3.2008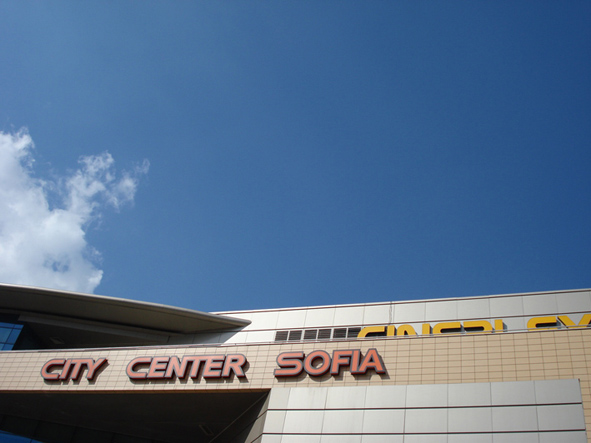 map
waypoints
01: Globe
Internationalism at a playground. Communistic childrens toys: Globe beneath imperialistic castle-playground equipment. Parents with children. Retired persons in the sun.
02: Olympic athlete
Anarchistic olympic athlete. Standing in front of a billboard for flowers, beauty products and mobile phones atop of a pedestal. To his left and in front of the stadium: javelin thrower, shot-putter, boxer.
03: Canal
German flag, leaves, garbage at the edge. The water is greyishgreen.
04: Stadium
"Der Mensch ist nur da ganz Mensch, wo er spielt" Schiller. Inscription at the wall of the stadium. Did Schiller think of the same play? Theater play = competitive sport? Therefore same inscription in Bulgarian.
05: Fascistic sector
You enter the fascistic sector. "Sector B E-E-E Hooligans". SS and a swastika beneath an informal marktet with ski articles at the stadium´s parking lot. Men sell ski equipment out of their cars.
06: The hollow
Lost the way. "I do not like to walk along here". Behind a iron fence a hugh pit, crater. Former fall-out shelter? The negative of a stadium? Why demolished? Is somebody living here? Behind the Nevski cathedral shines goldenly. Violets. sun. Spring.
07: Riding school
Dustbin in the park, playground and uniformed riding school. "Old people are taken out here still".
08: Heros
Two male statues at the boulevard. Old man with brown coat and brown hat is passing. Opposite: Two women as statues. Aside an old grey haired women with a pink bunch of flowers talks with a boy.
09: Karta na Sofia, merci
Successfully bought a map at a kiosk. Four words were necessary. Aside a klekstore, small cellar store. Oposite in the park, two men are sitting at a bank and trade with heaps of books which are lying in front of them on the ground.
10: Avenue
Avenue with knotty old trees in old streets. Cars are parking at the sidewalks and everywhere. Also older cars. Men are sitting in front of stores and play on a plastic table. It is quite and sunny. Concrete plaster is flaking off the grey buildings. Below street asphalt: Former paving (granite). Also "small" two storey houses. A tanned man is watching through the garbage bins. A cadillac with Rhode Island plate beside the old Lada with luggage at the roof and an old women inside who is awaiting her husband.
11: Africa Unite
Sprayed at a houses wall. Above a balcony with old fashioned brown underware.
12: Above the boulevard
On the top. above the boulevard at pedestrian bridge, over Mc-Drive and subsurface shopping mall. In the near a mammoth socialistic appearing building at an open space.
13: Bunker ventilation?
Art piece? Many corrodet pipes with access hatch between boulevard and park.
14: Hill in park
At a hill in the South Park. Lawns with dirt tracks and waste. Newly planted trees, but how shall they ever grow strongly? View onto Vitosha. Parents with children. Who feels responsible for the park?
15: Terminal stop
Socialistic landscape of gazebos with café and ticket store, derelict. At the tram´sterminal loop: Bar inside the café still visible. Salvager with pushcart is passing with a glare.
16: Fitness Sparta
Sports club at the edge of the park in the shabby style of modern socialism. Steel stairs with gravel.
17: Popcorn in the park
For 2 Lewa hugh bag of caramel popcorn. Scrumped at a concrete furniture at a path. Children lern to ride a bike, families promenade.
18: Globe again
Antiimperialistic globe playground equipment. This time in a settlement of prefabricated slabs, thronged by parking cars. Playgrounds to parking lots!
19: Private Flowers
Small, privately made flower bed with fence in front of a prefab condominium building. Roses, hollyhocks and primroses.
20: Sputnik-playground
Two rockets as playground equipment and space grid. Sleeping or desperate man with cigarette at his ear on a bank behind the toys. No children.
21: Tram station at a six-lane street
End of settlement made of prefabriacted slas. Boulevard Bulgaria. Reaching the tram station out of the hole in the middle of the six-lane street. Passages all over the town. New blue metallised buildings beneath old ones. Waiting for the bus towards motorway ring.
22: Boyana Mainstreet
Out of the bus. Boyana Mainstreet. More above forests.
23: Dogs, CCTV, one-family dwellings
Street of the barking curs. Single family housing area with garages, fences, dogs and camera surveillance. Little richer, also hugh cars and satellite dishes. A new orthodox church amid the houses, like a villa.Panorama view beyond town in the valley.
24: Mountain stream, dustbin
At the mountain stream, overturned dustbin. Silence, birds, water rush. Red-white straps, tied to a flowering tree, shall garanty rich harvest.
25: Easter bonfire
Easter bonfire- heap at the stream. Kyrillic sign, unreadable for us, hints to something which we do not understand.
26: The Ultimate Way of Living
"Gerganitza Palace. The Ultimate Way of Living". Building shell of an ugly multi-family villa.
27: Lounge in the park
Back in the valley, by bus. Nice lounge in the park. Pavilion at a dried artificial lake with bubbling softtechno and sofa corners. End point for tired feet. Outside two old ladies are sitting on a bank in the sun, having a talk.